Single phase variable frequency drive (0.4kW, 0.75kW, 1.5kW, 2.2kW)
Single phase variable frequency drive with 1 phase 220V/230V/240V input and 3 phase 220v to 240v output, suitable for small power three phase electric motors, the maximum power of
single phase VFD
is 2.2kW/3HP.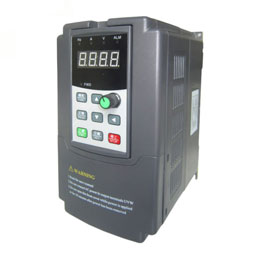 Overview
1. Optimized layout design makes the variable frequency drive to be smaller and lighter. It is easy for transportation, installation and maintenance.
3. High anti-interference ability due to the circuit separation for strong current and weak current.
2. Perfect cooling design ensures temperature adaptive capacity and long service life.
Power steps:
0.4kW (0.5HP), 0.75kW (1HP), 1.5kW (2HP), 2.2kW (3HP)
Input voltage: single phase 220V to 240V, fluctuate rate ± 15%
Output voltage: three phase rated input voltage
Single phase VFD features
3 kinds of control: V/F control, SVC control and torque control.
Continuous operation at momentary power off function.
High starting torque: 180%, 0.5 Hz.
Support RS 485, comply with Modbus-RTU communication standard
Multiple sources of frequency reference.
Automatic voltage regulation (AVR).
programmable terminals for 0-10V or 4-20mA input
Frequency skip function.
Multi-step speed control, simple PLC control and PID control.
Programmable input and output terminals.
Built in brake unit
Oscillation suppression function.
Perfect function of fault protection.
Enhance fault protection to monitor variable frequency drive operation record conveniently
VFD Applications:
City water supply, pump and fan, conveyor, compressor, main shaft of CNC, central air-conditioner, Wooden machines, ball mill machine, fountain.