Current Vector Control Variable Frequency Drive - EDS V300
Overview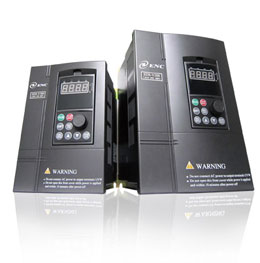 This variable frequency drive manufactured by us adopts new control technology: current vector control, more accuracy AC motor speed control, intelligent self-learning feature according to the control environment, output high torque at low frequency, integrated RS485 for easy control, suitable for lots of applications for energy savings;
Power Range: 0.4kW – 2.2kW (single phase 220V input, three phase 220V output)
0.75kW – 55kW (3 phase 380V input/output)
Voltage fluctuate range: ±15%
VFD Control mode: Current vector control and V/F control, more accuracy
This variable frequency drive adopts current vector control feature, and optimize V/F control mode at the same time;
Provide many types of frequency input methods, integrated RS485 communication interface, and have options for MODBUS protocols;
High torque at low frequency running status: output 150% rated torque at 0.5hz frequency;
More accuracy control: error rate of speed signal input and actual speed output is ±5%;
The variable frequency drive can realize self-adjustment intelligent in load sudden changing and rapid acceleration/deceleration running stage, to avoid overcurrent and short circuit issues;
Good robustness feature: Generally not sensitive to the AC motor parameters, not rely on parameters changing too much, strong adaptive capacity to environment temperature change;
Easy settings: not need to set the electric motor and controller parameters specially. Easy reset factory default settings if any parameter was set incorrect;
Advanced self-learning function: After entering the AC motor nameplate parameters into the variable frequency drive, the VFD will start static and rotary tuning by itself, in order to identify the electric motor parameters dynamically to achieve AC motor vector control function;
Stable & fast response to high speed running brake, the minimum time reaches 0.1s in accelerating/decelerating stage.
Current vector control VFD Applications:
Drawing machine, textile, packaging machinery, tobacco, paper making, stone machinery, mining machinery, printing machinery, food, chemical, transmission, wire and cable, metallurgy, machine tools, wood machinery, ceramic industry, building materials, and much more industries.