690V Medium voltage variable frequency drive - EDS1000
Overview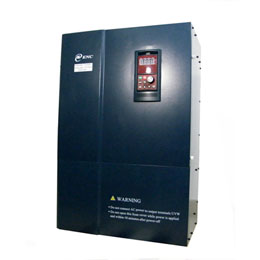 This general purpose medium voltage
variable frequency drive
is developed & manufactured to fit higher requirements applications, it's designed & improved base on thousands of customers automation control solutions from local China and global customers. In order to enhance the safety operation requirements in all medium voltage applications, we import IGBT module and high withstand voltage semiconductor components to produce the variable frequency drives, with compact design & easy installation.
Power range:
18.5kW – 132kW 3Phase 690VAC
Medium voltage VFD Features:
Space voltage vector control mode;
High withstand voltage semiconductor components to enable more powerful ability against high voltage impact;
Wide range voltage fluctuation: -20%~+15%, better adaptive ability;
Built-in automatic voltage regulation (AVR) and automatic current limitation function to protect the machines more effectively;
Maximum 16 steps speed control function, more convenient to control the drives;
Low temperature rise design technology to enhance the variable frequency drives service life;
Main circuit wirings adopt high-voltage double insulation conducting wires to enable more safety running;
Independent cooling fans structure design, better adaptive ability to various environments;
Provide RS485 communication function (option) for remote controls;
IGBT Module adopts Switzerland Concept drive electric circuit solution to enable more reliable & stable variable frequency drive operation.