General type vector Variable speed drives
This variable speed drive adopts dual-CPU control. Complete decoupling control of magnetic field orientation vector control algorithm, realizes the genuine electric current vector control. Advanced and stable control technology, combining with speed feedback PG card, can reach the accuracy of 1:1000, and replace the simple servo drive.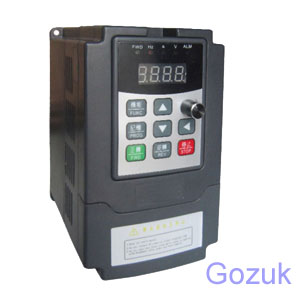 Starting torque is 150% at 0Hz, can be used in heavy loads. Under vector control mode, speed control or torque control are selectable. There are quick setting mode, basic mode and advanced mode for parameter setting, which make debug more convenient. Torque control where the vector control superiority lies in, is suitable for load such as winding machine. This variable speed drive is recommended on occasions of higher performance requirement, such as hoists, drawing machine and so on.
Power Range:
0.75kW - 400kW 3 phase 380V +/- 15%
VSD Drives Features
High performance closed-loop vector control and torque vector control variable speed drive; Closed-loop vector control accuracy is up to 1:1000.
Adopt zero-servo and position control function.
High starting torque in low frequency, with full-field torque boost function and automatic slip compensation function.
Advanced motor data self-learning (dynamic) function.
Energy-saving mode allows the variable speed drive to run at its best state to save energy.
Built-in RS485 fully supports standard ModBus communication protocol.
PG card is optional.
Metal shell, good shielding performance, resisting environment interference well.
It is worth noting that the superiority of the
variable speed drive
enables it to obtain the outstanding engineered customization applications. Whether fieldbus control or advanced automation integration, this variable speed drive will be able to meet the needs of customers. It is a rare high-performance general type drives.